Greywind - The House Stark Tribute Cardigan
Winter is here!
This design is for all my GoT-lovin' House Starkers out there who will never be ready to say goodbye GRRM's epic series, A Song of Ice and Fire. The pattern is available for FREE on Knitty.com (Winter, 2019). Woohoo!!!
The easy-peasy yarn bundle is available for this project here. Simply click the size you want to make and the yarn totals automate for the size selected. (Note: Our nifty bundling feature is for desktop viewing only.)
(Warning! This blog contains spoilers. So if you haven't read or watched the series and plan to, I'm talking plot points!)
Greywind is named after Robb Stark's fierce and loyal direwolf. Sadly, Robb's handsome curls and his wolf came to dramatic and untimely ends in the books and tv series, but this cardigan is a way for the King of North's spirit to live on.
Greywind Design Details
After weeks of worrying over the intarsia direwolves (trying to figure out if working them in the round was sensible), I finally succumbed to the obvious conclusion and worked this cardigan flat. There is a bit of stranding at the hem and the yoke worked flat, but the GoT "O" motif in the stranded bands are symmetrical and straightforward, making them fairly easy to keep track of on the wrong side. Let's face it—intarsia is much easier to work flat, IMHO. 
Although the body is worked flat, the sleeves are worked the round. They work up lightening fast, which is why I recommend working them first. It was such a relief after working the body to connect everything for the yoke right away. 
Optional tubular cast ons for both the hem and the cuffs give this cardigan polished and professional look, but alternate directions are provided to skip this step if you so wish. 
The direwolves are the obvious stars of this design, but the vertical ribbed button band-to-shawl collar button band is a close second. The button band stitches are held from the hem ribbing and attached as it's worked. No seaming! 
Alternate Direwolf Colorways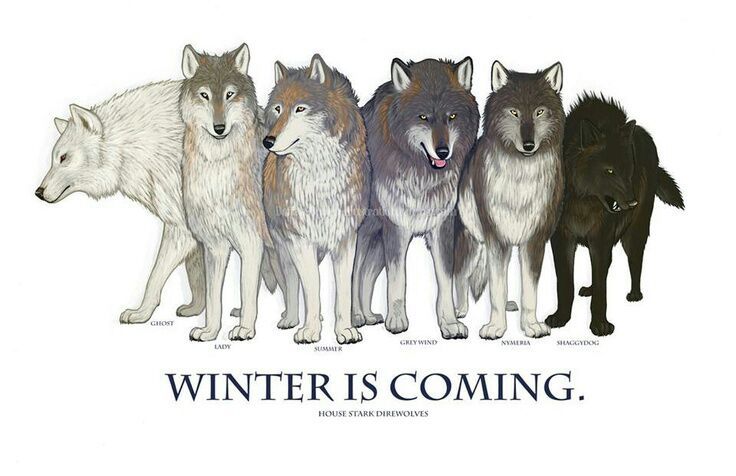 The color palette for Greywind was a no-brainer, but there is another obvious color palette—Ghost. Which made me think that there are at least five alternate color palettes for this cardigan—Ghost, Lady, Nymeria, Summer, and Shaggydog. Find below the recommended color palettes for all the Stark direwolves! 
1. Ghost - Jon Snow
Raven, Aspen, Charcoal, and Barn Red
Just like his guardian, Ghost, Jon's albino direwolf with blood red eyes, has a rather adorable disposition, despite his knack for killing foes. 
Recommended "Ghost" colors: 
(MC/body): raven (black)
(CC1/wolves, stranded colorwork, and piping): aspen (natural white)
CC2/background for wolves and stranded colorwork): charcoal (natural dark gray)
(CC3/Ghost's eyes): barn red (deep red) 
2. Lady - Sansa Stark
Jam, Fawn, Charcoal, and Ash
Sweet Lady. We spent brief and precious time with Sansa's gentle direwolf, but, just like Sansa, she always carried herself with the grace of a queen. Let's dress her in a royal color.
Recommended "Lady" colors: 
(MC/body): jam (purple)
(CC1/standed colorwork and piping): fawn (natural beige)
(CC2/colorwork backgrounds): charcoal (natural dark gray)
(CC3/wolves): ash (natural gray)
3. Nymeria - Arya Stark
Midnight, Ash, and Lake
The lone wolf. For her protection, Nymeria disappeared into the forest off the King's Road early on, but there are whispers of a gigantic wolf leading a pack through Westeros. Hopefully, we'll see her again in the books (maybe for a bit longer). 
Recommended "Nymeria" colors: 
(MC/body): midnight (navy)
(CC1/wolves, stranded colorwork, and piping): ash (natural gray)
(CC2/colorwork backgrounds): lake (medium blue)
4. Summer - Brandon Stark 
Evergreen, Fawn, and Juniper
The protector, and eventually, the second eyes and legs of Bran Stark. All the Starks had a deep connection with their direwolves, but none more so than Bran. 
Recommended "Summer" colors: 
(MC/body): evergreen (dark green)
(CC1/wolves, stranded colorwork, and piping): fawn (natural beige)
(CC2/colorwork backgrounds): juniper (medium green)
5. Shaggydog - Rickon Stark
Charcoal, Gold Leaf, and Fawn
Shaggydog, the vicious protector of the smallest Stark, Rickon. He ran off into the darkness with Osha and Rickon, and, in the end, was another Stark wolf to meet a savage end in the series. 
Recommended "Shaggydog" colors: 
(MC/body and wolves): charcoal (natural dark gray)
(CC1/stranded colorwork and piping): gold leaf (green-yellow)
(CC2/colorwork backgrounds): fawn (natural beige) 
Tag your Greywind! We want to see them. So when you post hit up the #greywindcardigan and tag us @hudsonandwestco!
p.s. For all of those ASOIAF-nerds out there, I can't recommend highly enough the Binge Mode GoT podcast. It dives DEEP into the books and series, contains adult content, and has frequent character vocal impressions for an all around great time. Sloane gets all the credit for this recommendation. 👍
41 comments